It's the holiday season! And if you own a dog, you know that anything around your house could potentially become their favorite toy—even those high-end slippers you splurged on. Why not get your doggo something special this year, just for them? Perhaps this will leave your belongings intact.
We've shared nine dog toy and accessory ideas below to fill your pup's stocking with canine care. As veterinarians, we want your dog to have the best holiday season ever, but we also want them to be safe, so make sure you monitor them with any toy, accessory, or chew bone.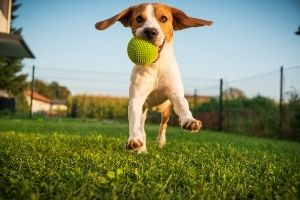 1. A Heavy Duty Ball
This one's a no-brainer, as (most!) dogs and balls go together like peanut butter and jelly. The thing is, though, we so often end up letting them play with whatever we've got laying around the house, and this often ends up being a tennis ball. And although dogs do love a good tennis ball, the American Kennel Association notes that the tough exterior of a tennis ball can become a choking hazard if your dog is known to chew them to threads (which many do). The AKC also notes that tennis balls are known for their wear and tear on the teeth. There are a lot of ultra-durable dog balls on the market that will be a fun and safe option for your pup, although as we mentioned earlier, you should always supervise your dog with toys—especially balls.
A Couple of Ball Recommendations for Dogs: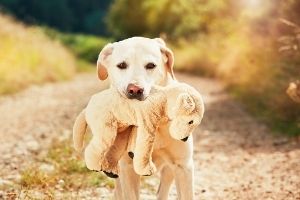 2. A Durable Plush Toy
If you've got a dog who's known for chewing anything they're not supposed to, a durable plush toy can be just the thing to keep your possessions from their sneaky paws. As with balls, dogs are rough on toys, so make sure you do your research on a toy that can withstand some roughhousing.
A Couple of Plush Toy Recommendations for Dogs: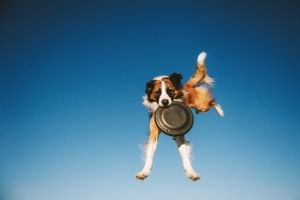 3. An Indestructible Frisbee
Are you sensing a theme here? Many dogs, especially of the larger varieties, are rough on toys. When they're able to take them apart, that's when they become hazards. Many dog breeds love frisbees but the kinds that you buy at the Dollar Store are meant for just a bit of beach or park play, likely with tiny humans. Search, instead, for a frisbee that's made for the tug-of-war that inevitably ensues when your doggo gets a hold of it.
A Couple of Frisbee Recommendations for Dogs: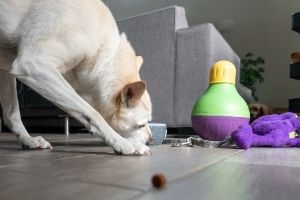 4. An Interactive Way to Get Treats
Some dog breeds are prone to putting on a few extra pounds, especially during the winter. If your dog falls into this category, give them their favorite treats, but make them work for it! There are a ton of options to choose from, including interactive puzzles and balls that make your dog do some moving and grooving before getting to the ultimate prize—food!
A Couple of Interactive Treat Toy Recommendations for Dogs: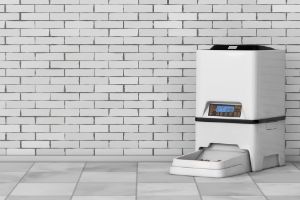 5. Automatic Pet Feeders and Dog Cameras
These are more for you to be sure, which is why we grouped them together. They can both be handy additions, particularly if you work outside the home. The automatic pet feeders are a great option if you can't be there at your dog's preferred feeding times. In fact, some dogs have GI issues that do better when you feed them at regular intervals. And as for the dog cameras, that's quite simple for those of us who experience separation anxiety when we're away from our favorite fur friends (read: all of us!).
A Couple of Automatic Pet Feeder and Dog Camera Recommendations for Dogs:
Pet Feeders:
Dog Cameras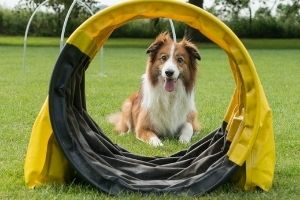 6. Agility Kit
Does your dog watch The Westminster Dog Show wistfully alongside you each year? You can give them a taste of being Best in Show without all the grit that goes along with it. Agility kits are especially great for wintertime when your dog is perhaps not getting outside for walks quite as much. Whether your dog is agile and can, quite literally, jump through hoops or is more of the silly variety and rolls underneath, these kits are a blast for dogs while getting in some exercise on the sly.
A Couple of Agility Kit Recommendations for Dogs: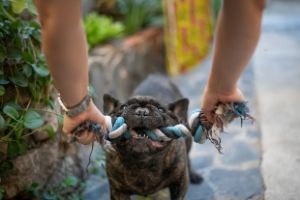 7. Cotton Rope Toy
A classic if there ever were one, the cotton rope initiates a game of tug-of-war that would last for hours if it were up to your dog. Make sure you get a durable one and always toss them as soon as they begin to get frayed to keep your pup safe.
A Couple of Cotton Rope Toy Recommendations for Dogs: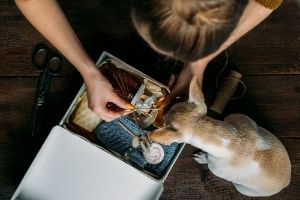 8. Subscription Boxes
Subscription boxes are all the rage these days and this can be the way to go if you've got a dog that chews through toys and accessories in a matter of minutes. Plus, let's face it—it's fun getting something in the mail each month!
A Couple of Subscription Box Recommendations for Dogs: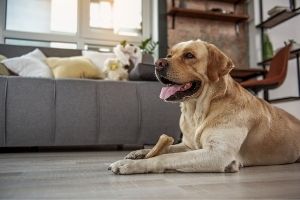 9. An Edible Chew Bone or Toy
If you've followed veterinary medical articles at all, you likely know our disdain for things like pig ears and rawhide treats, as we've seen far too many beloved pets with obstructions from these. However, if you do your due diligence, you can find some great treats that are both edible and safe for your dog, and they're perfect for when you need to keep them busy for a period of time!
A Couple of Edible Chew Bone or Toy Recommendations for Dogs:
Get your fur baby in on the fun this holiday season with any or all of these items. And don't call us The Grinch for reminding you to always stay in the room and watch your dog carefully when they have toys or chews, and pick them up when you leave.
If you have questions about the safety of something you're considering for your precious pooch, feel free to give us a call!
*We'd like to add that, although we are confident your dog would enjoy any or all of these items, we are not paid by or affiliated with any of the companies mentioned in this article.